Family Conference
Dear Friend,
On behalf of our entire Church family, I extend to you and your dear family a sincere invitation to attend our special Family Conference designed to help you in "BUILDING & STRENGTHENING A CHRISTIAN HOME".
Whether your family consists of Mom and Dad with or without children, a single parent, or you are considering marriage; you face any number of issues in today's world which are attacking the home. But we want you to know that the answers are found in the BIBLE, and therefore, your marriage, family, and home can gain and maintain victory over all these enemies! SERIOUSLY!
So, this Memorial Day Weekend, Friday, May 27th-Sunday, May 29th, we will be offering several different Services and Sessions for you to come apart from the world and help you build and strengthen your family for the Lord. The Services and Sessions will be:
Friday:
7:00 PM – Youth Rally with Evangelist Steve DeSantis. There will be singing, preaching, Magic Show, and a pizza fellowship to follow the Youth Rally. All Youth and Adults are welcome!
Saturday:
9 am – Men's Breakfast Fellowship at Sam's Diner with Bro. DeSantis speaking.
2 pm – Ladies Fellowship held at a local restaurant with Mrs. DeSantis speaking.
7 pm – Reaching the Next Generation: A Teacher's Training with Dan and Sharon Russell, Directors of CEF of Bradford County. Held in our church auditorium.
Sunday:
10 am – Combined Sunday School for Teens and Adults with Bro. DeSantis teaching. Youth Sunday School for ages 4-12. Nursery available for 3 years and younger.
11 am – Preaching and Worship Service with Bro. DeSantis Preaching. Jr. Church for ages 4-12. Nursery available for 3 years and younger.
12:30 pm – Cookout Lunch (Hamburgers, Hotdogs, and all the traditional sides!)
2:00 pm – Combined Closing Service with Bro. DeSantis and Adult Magic Show.
Our Speakers: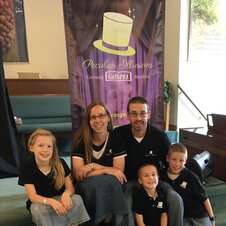 Bro. Steve DeSantis and Family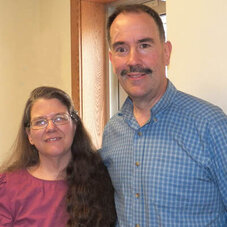 Dan and Sharon Russell
The Home was the first institution created and ordained by God. A biblical marriage is the union of one man and one woman until "death do us part". A home is a family unit consisting of Dad, Mom, and Children, where Christ is the Head and Center of all activity. FBC hopes to host this Annual Family Conference featuring preaching and teaching that strengthens the marriage and the family unit. It is a conference designed with the intent to bring our homes closer to God and to one another.
Building Strong and Godly Families through Faith in Jesus Christ, the Guidance of the Holy Spirit, and the Instruction of the Bible. Today the foundation and values of the Christian home are under fierce attack. Our country is in real need of strong Christian families now more than ever. The Church must hold a Biblical line and preserve a godly heritage for the next generation. We invite you to join us for our 2022 Family Conference, happening on May 27 – May 29. Please, make this Family Conference a priority in your schedule and mark it on your calendar today! Just like Nehemiah you are in a "building project!" It may not be a wall, but we are all building something: a life, a marriage, a family, a ministry, a church. Opposition will come, just keep building and strengthening!
To help us adequately prepare for you, we ask that you please register below and let us know which of the Services and Sessions you, your church, and family, will be attending.
If there are any questions we can answer for you, please do not hesitate to contact us. We look forward to seeing you in May and ministering to you!
In Christ,
Pastor Robert Nacci
First Baptist Church of Sayre, PA
1st Cor. 15:57-58
firstbaptistsayre@gmail.com